Wow… the last days are a blur. I hoped to blog more but once more failed at doing so. What an awesome sprint this is… Once again, many thanks to Joseph for organizing this! But lets now blog about really noteworthy stuff!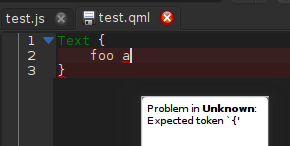 Inline Syntax Errors for QML in KDevelop
QML/JS language support
Aleix was doing quite some QML work-work recently. Sadly KDevelop has no language support for that, so to stay productive you start to use Qt Creator for the QML files sooner or later. This is of course perfectly fine, except for those people that love to use Kate e.g. or for those that prefer our interpretation of the IDE metaphor and C++ language support. So what should we do about that? Right, lets write a QML/JS Plugin.
Cannot Parse
But writing a KDevelop language plugin is not an easy task. To get something useful, probably the most essential ingredient is a proper language parser. And of course that is nothing you do over night. Furthermore, you should always try to not write that stuff on your own, instead leverage the work done by others. This is what Aleix did. We now use an internal copy ( not a fork, see below) of the QML/JS parser from Qt Creator. I've wrapped that in the basic KDevelop language plugin code. Without much work we are now already able to show syntax errors inside the editor for JavaScript and QML files!